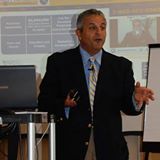 Great day!
If you've been around in this world long enough, you probably heard the commercial created by the fast-food chain Wendy's ... "Where's the Beef?"
On today's 15-Minute Huddle ... we going to talk about ..."Where's the Business?"  we'll share the multiple channels for listings and sales...and frankly... this will work for any business as well!
Listen, take notes, take action and prosper!
Great day, Mike
www.mikehusson.com
www.realprofitbuilders.com
p.s. Get the word out on these Huddles... share it with your peers and team members... post it on your social media profiles... Learning this stuff...makes you all look good!