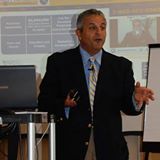 Great day!
Are you running a sprint or a marathon?
Defined:
Sprinting: Last for seconds...
Marathon: Last for hours...
Clearly defined:
Sprinters:  Speed ... pushing the envelope now
Marathoners: Pace themselves for the long haul 
On today's 15-Minute Huddle ... to win big in your business... you have to ask...what's the best race to run? That will depend on some factors that we'll speak about.  
If you miss the point... you may quit before you get to the finish line... let's not let that happen!
Make it great today,
Mike
www.mikehusson.com
www.realprofitbuilders.com
p.s.  What's the difference between an investor who is a 'sprinter' vs. one that's a 'marathoner?'  The answer next week on our group call on April 3rd at 12 noon EST/ 9 am PST ... here's a hint:  it has to do with money...mark that calendar now!