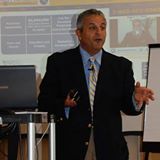 It's up and ready to listen in...
Great day!
Do you get locked into specific patterns of behaviors that don't serve you or the bottom line in your business?
Why do we have these unproductive behavioral patterns?
On today's 15-Minute Huddle at 7:45 am...we'll discuss ... Changing your habits to grow your business and a sequence of patterns that can make you or break you.
Make it great today, Mike
www.mikehusson.com
www.realprofitbuilders.com
p.s. "Hey good morning Mike.  In one of your reminder emails about getting on these calls, you suggested that we get on them early before the day starts and before everyone else rather than listening later.  So I started last week and the call you did last Monday on clear communication landed me a $475,000 listing from a by owner.  That morning after that call and 4 subsequent contacts last week got me the appointment Saturday and the listing! I had been following them for about a week and a half before. The owner said I was 'the most efficient agent he met.' So you know I've been on the calls every day now at 7:45 Mike! Thank you for your efforts." Carlos
I love these emails...don't you!  Yes, something to think about guys... join us at 7:45 am M-F. Dial into 605-475-4819 - Access 599-992