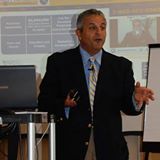 Great NOT just a Good day but a GREAT ONE!
Do you know anyone who is a natural 'half-empty glass type of a person?
Do you know anyone ... that when they hear slogans like ... "Think Positive" they feel like they have run a marathon first thing tomorrow when they're only an occasional walker.!?
Do you know anyone like that ... intimately?
On today's 15-Minute Huddle... I've put together some negativity reduction tips...ones that will help you chip away from the gray-side to a more bright and shiny side of life.
Great yes, a GREAT day now,
Mike