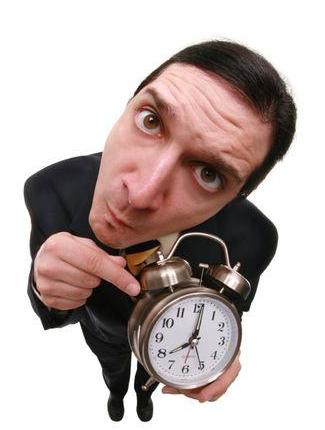 Great day!
Is that fancy watch we are wearing mean that we are good at telling time?
On today's 15-Minute Huddle - An important lesson for telling time...let's not squander it.
...but wait... there's more before you go...
======================================
***I have an important reminder for you to begin planning now for a powerful group call...read more below...March 6th!***
So, you do some marketing, you hold some open houses, you get a referral, you have a seller who needs to buy, you invest time and capital into generating leads for buyers with the goal in mind of converting them to a sale…yee haw!
 
You finally get them on the phone, and you have some chit-chat about their goals and objectives... they seem interested and you go for the "close!"  But then… they say…'can you send me listings and I'll get back with you.'  Ouch…
 
So, what's the next step?  There is a better way to get them committed and on March 6th at 12 p.m. EST / 9 am PST times... we're going to be doing a special group call with a Senior Loan officer Kat Martin from Hamilton Group Funding.
 
I worked with and I have known Kat for over 20 years she is one of the best in the lending business!
 
On this call, we're going to be talking about making the transition from a lead to a conversation with your lender [one of your most valuable assets]
 
Often, it can be awkward speaking with people about their financial situations, however, it doesn't have to be like that … at all!  We feel if we, as agents, go to deep with prospective buyers on the initial call that we'll lose them, or they won't feel comfortable sharing their most intimate financial details.
 
Guys, nothing can be further from the truth.  Let's keep in mind that purchasing a home, is one of the biggest financial decisions people will make in their lives.  As a result, it's up to us to make them feel as comfortable as possible during this process so they will choose you to buy vs. the competition. 
 
On this call, we are going to share with you the best practices on … 
 
"How to" refer your potential buyers to your loan officer. This is an art!
"How to" use scripts and dialogues in the right way so you can maximize you'll return on investment of time and capital while building trust and credibility…
"How to" get them to speak to your lender without feeling pressured…
"How to" speak confidently about the different financing options that are available…you don't have to be a banker to do this…
"Why" it's important for you to speak with confidence to your prospect about the money…
 
Guys, two important thoughts…
 
First, we can't assume that everyone we speak with is qualified to make a purchase…especially because they [the prospect] says so.  And before we even send them to our lenders… we must be able to ask some simple, yet effective questions that will help you to make that decision.
 
Second, we have to understand that if you get a lead, you're not the only one who is calling them, so in order to get your buyers committed to you, we have to build authority, trust, and credibility. 
 
Ok… now mark your calendars for March 6th...at 12 pm EST/9 am PST...
 
The call-in number is 605-475-4819 | Access# 599-992.
 
The call will be about 30-40 minutes and we'll open it up for Q&A so bring any questions you have, and we'll look to get them answered. 
 
We will be sending out reminders for this all-important call... So, don't miss out so you can begin making more money when working with your buyers!
 
Thanks so much and make it a great day!
 
Mike
www.mikehusson.com
www.realprofitbuilders.com