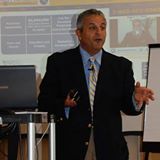 Great day!
How do we differentiate ourselves in a marketplace that is inundated with competitors who don't deliver on what they say?
What is it that will keep the referrals coming, and the profits high?
How can we earn the trust of people when 95% or more of the people we look to work with ...have no trust at all ... in what we do?
On today's 15-Minute Huddle ... 4 powerful words will be presented... "Deliver An Amazing Experience!"  How do we do that?  MMMM ... get on the call! 
Remember that the purpose of a business is to get customers and keep them!
Make it great today!
Mike
www.mikehusson.com
www.realprofitbuilders.com
p.s. oh... and yes...did you mark your calendar for the group call on April 3rd at 12 noon EST yet?  Come on... do it now!