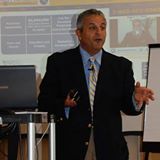 3.25.19
Great day!
What does it take to Win?  It takes Leadership and part of it… if not all of it comes from where you started to get you where you want to go.
On today's 15-Minute Huddle ... a bit of humility and what you… as a leader in your business… what you must recognize to become more effective in your business.
Have a great week, Mike
p.s. Have you ever wanted to invest in real estate, or do you work with investors?  Is what they do even legal?  If you're an agent, can you profit as the investors do?  Well… it's done… mark your calendars for a very important group call on April 3rd at 12 noon EST | 9 am PST.
It's "The Biggest Secret In Real Estate Investing in The Past 50 Years!"  That's a tall statement to make, however, one of my mentors and friend for over 20 years Dave Dinkel, a coach to many investors and agents, who, as a result of working with Dave, have become millionaires.   He will be investing up to an hour of his time on how you can double or triple your commissions, how investors make huge profit spreads and how to become an investor yourself.  More to come … so mark your calendars now…April 3rd, 2019 at 12 noon EST.
pps… You won't find Dave on the late-night infomercials or on the back of a big boat in the back of a big house on the water… since 1972 Dave has defined wealth differently… it's about being smart, strategic and taking the 'right' actions.