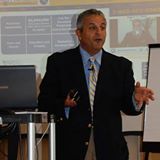 Great day!
"Only those individuals who are willing to try again after their failures... Those who seem to have some strange inner knowledge that success can be theirs...if they just stay with it long enough, finally win their diploma in life."
Has life ever shown you that the right to fail is as important as the right to succeed?
On today's 15-Minute Huddle...a new series of calls... Friday's story... Today... You Have The Right to Fail...
Failure to be on this call means only one thing...you didn't show up.
Great day now, Mike
www.mikehusson.com
www.realprofitbuilders.com
A BIG P.S. MAKE SURE TO MARK YOUR CALENDARS ... MARCH 6TH AT 12 NOON EST/9 AM PST FOR OUR GROUP CALL WITH MY SPECIAL GUEST...KAT MARTIN, SENIOR LOAN OFFICER EXTRAORDINAIRE...WE'LL BE DISCUSSING ... HOW TO SPEAK CONFIDENTLY WITH YOUR BUYERS ABOUT THE "MONEY" SO YOU CAN MAKE MORE OF IT!
When you can do this effectively...YOU WILL then position yourself as the "authority" and be more confident ... thus building tremendous trust and credibility. So much so, that your buyers would be an idiot to want to work with anyone else but YOU!!!
Don't miss this call:  The call-in number at 12 noon EST ... on March 6th is 605-475-4819 | Access# 599-992