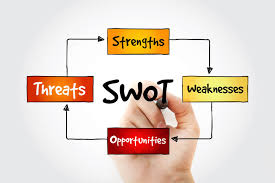 Great day all!
The SWOT...I said it right!  It's not about killing flies.
Going into the last quarter of the year and preparing for the coming year... It's about growth which means more; leads, conversions, transactions, cash flow, and profitability in our businesses.
How we achieve more of the above is to evaluate our strengths, weaknesses, threats, and opportunities.
This is, for most, a very important [ok...critical] time in our businesses.  My teams and I are right now cleaning up, cleaning out, evaluating and preparing for the wrap of the year and the unwrapping for the new one....which is yes... right around the corner!  
On today's 15-Minute Huddle...The In-Famous SWOT ... all of the great businesses do them and the superior businesses do them very often.
So, if want to be the very best, have the very best, and make the very most... take a few moments today!
Click here to download the S.W.O.T. Document
Join the calls "live" at 7:45 am - M-F ... by dialing 605-475-4819 | Access# 599-992 
Can't make the live calls? Go to www.realprofitbuilders.com ...when there make sure to "follow us"
Make today count,
Mike
email: mike@mikehusson.com
Would you like a "Private" 15-Minute Huddle?  Click here to jump on my calendar and let's talk.
p.s. Let's not forget to encourage others by paying this forward to someone on your team, a colleague, your office, friends or family.  Our lives will better when we help others make their lives better!  Thx. Mike
p.p.s. Are looking to up your Social Media knowledge?  If so, I just added a brand new series of recordings, workbooks and PDF's at www.realprofitbuildersacademy.com on Social Media Marketing ... this is very powerful and up-to-date content to WIN in a very competitive game...to get your trial access...simply send me an email to mike@mikehusson.com and put "TEST DRIVE" in the subject line. Thx., Mike