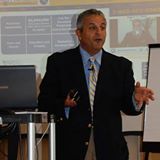 Huddle | 6.25.19
Great day all!
What does it take for you to be confident and comfortable to know that you will have a successful business?
What does it take the be able to put on the Green Jacket - The Master's Jacket?
Is it your skills?
Is it your attitude?
Is it the activities involved in your business?
Well...all of those above are important plus some... But wouldn't it be better to know some specific steps that lead you down the path of success?
The path to Mastery?  There is such a path...so...
On today's 15-Minute Huddle... We're going to revisit a most important formula in order for you to build your business. This will be done in two parts because it's that important.
And once you understand this and you follow it to the tee... I can guarantee much higher levels of confidence and greater patience to get you where you want to go.  Remember...this is what the masters of business get and use to win, win, win and win more often.
Join the calls "live" at 7:45 am - M-F ... by dialing 605-475-4819 | Access# 599-992
Make today count,
Mike
Direct: 954-210-5565
email: mike@mikehusson.com
p.s. Let's not forget to encourage others by paying this forward to someone on your team, a colleague, your office, friends or family.  Our lives will better when we help others make their lives better!  Thx. Mike