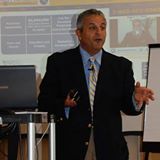 Great day!
Paraphrasing from the great book Alice in Wonderland ... Alice is on her travels she comes to a road a fork in the road.  She stops and looks both ways and is confused about which road to take.
As she's standing there, Alice hears her name be called out.  She looks up an sees a Cheshire cat in the tree… looking up… the cat says… "Alice, you look lost… can I help you with anything?" 
Alice says, "In front of me there are 2 roads and I don't' know which one to take…"
Then the cat in its infinite wisdom says…"Well, Alice… in front of you, there are 2 choices… the question is 'where do you want to go?'"
Alice says confused … "I don't' know!"
The cat says… "Well, Alice with 2 roads in front of you and you don't know where you are going… then young lady…any road will get you there!"
This story above is quite typical in the world of selling and in most people's lives. 
They don't know where they are going…and as a result … they have no idea how they are going to get where they want to go.
What's your destination?
Where do you want to be?
Equally important…WHY do you want to go there?
What are your plans to get you from where you are to where you want to go?
Imagine getting on a plane and the pilot announces to everyone on the plane before they take off…
"Welcome aboard ladies and gentlemen… we'll be taking off very soon and I was wondering .. where do all want to go today?" 
What would you do?  How would you react?  What confidence would you have in that pilot?
Similar is our businesses… what are your plans?
In today's and over the next couple of days … our 15-Minute Huddle at 7:45… we'll look to discuss…"The 7 Keys to Personal Sales Planning."
This ESSENTIAL part of our business and life must be done now as we move to wrap up 2018 and move into 2019…
Click here for your 2019 Business Planning Docs
If you need any help with your planning...let me know... 954-210-5565 or email mike@mikehusson.com 
Make it great today
Mike