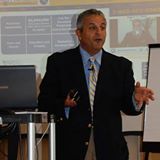 Great Day!
If you were to thread a needle...would you agree you'd have to be very precise in order to get the result or outcome you were looking for?
On today's 15-Minute ... I'll discuss some of the key distinctions of the great salespeople and how they thread their needles every day to win more often.
Let's see if any of these thoughts today will get you closer to the outcomes YOU want in your business.  So, sharpen your pens and needles because I think they just might do that!! 
Thanks, Mike
www.mikehusson.com
The E-Learning Academy: